Zuccala Homes
Tweet
27 Sep 10
Leave a comment
Go to comments
Zuccala Homes

We are currently in the stage of developing a website for Zuccala Homes. Zuccala Homes are home builders based in Melbourne, Victoria. Here are some of the important things for the website
The user experience on Zuccala Homes
The user experience on Zuccala Homes is crucial. We want to make it easy for a home-buyer to search for houses that they like and show them the house designs in the most detail with minimum clicks. Once they are satisfied with the home design they can either download a PDF to view more specifications or send an enquiry to Zuccala Homes.
Zuccala Homes Front Page
We have used the corporate colours of Zuccala Homes to build the website in their branding. Also a banner rotating on the front page lets the user go to different main areas of the Zuccala Homes Website.
Zuccala Homes Designs Page
The home designs page allows a potential home buyer to search for any Zuccala Homes Design. A visitor can search through the Search Panel on the left or click on the individual home to get to the Zuccala Homes Design Page.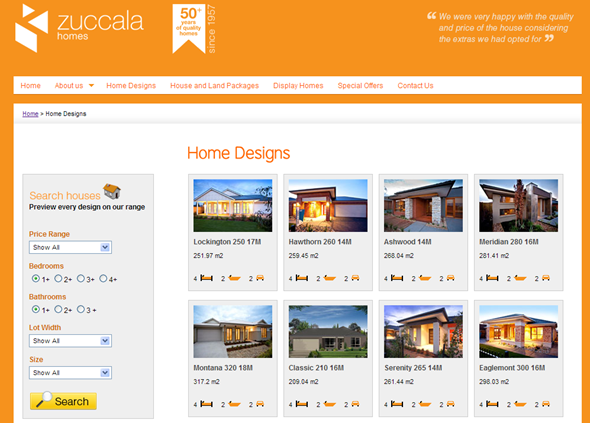 Individual Zuccala Homes Home Design Page
The individual Zuccala Homes Home Design Page allows a visitor to quickly view the Home Design of their choice. To give all the information of Zuccala Homes, information is put into different tabs where you can click and view more information, download PDF of the Zuccala Home or Enquire about that particular home.
Please feel free to click on the links and view the website. We will be updating with more posts which details the user experience, usability, tracking and marketing of the Zuccala Homes website.