Finalising the site – Zuccala Homes
Tweet
23 Oct 10
Leave a comment
Go to comments
Finalising the website for Zuccala Homes

We are now finalising the Zuccala Homes website. Based on user feedback and customer feedback, we have implemented a lot of changes towards the newer version of the website.
New Changes
The navigation menu has been turned black, the search boxes orange and house and the Google maps from House and land packages has been removed because it wasn't being used.
A header image that will be the default on all the pages that don't need flash interactivity has been used to freshen up the look and reflect on the main theme of the page.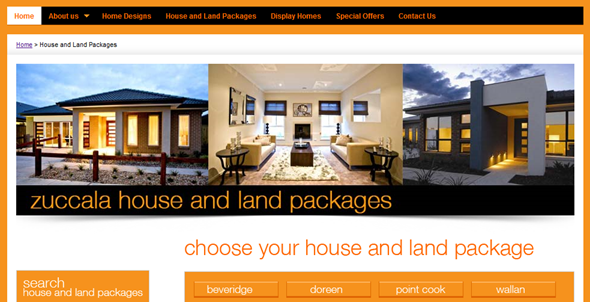 Mobile Friendly Website
With most of the home builders websites, we realised that most of the websites were built in flash so was not accessible from the iPhone. Zuccala Homes Website has been built so that it is mobile friendly and can be accessed just as easily through an iPhone, Android or a Windows Mobile phone.
CMS running behind the Zuccala Homes website
A custom CMS that runs behind the website is being built to allow Zuccala Homes to add new homes, house and land packages and display centres themselves. Next time we will discuss how the CMS works and how it was built.