1. What is AB Testing

A/B testing is the simplest method of checking which content works best for your target audience. You create two versions of your content, divide your target audience into two random groups and show the two versions. You then compare the conversion metrics on those two groups to see which one works better.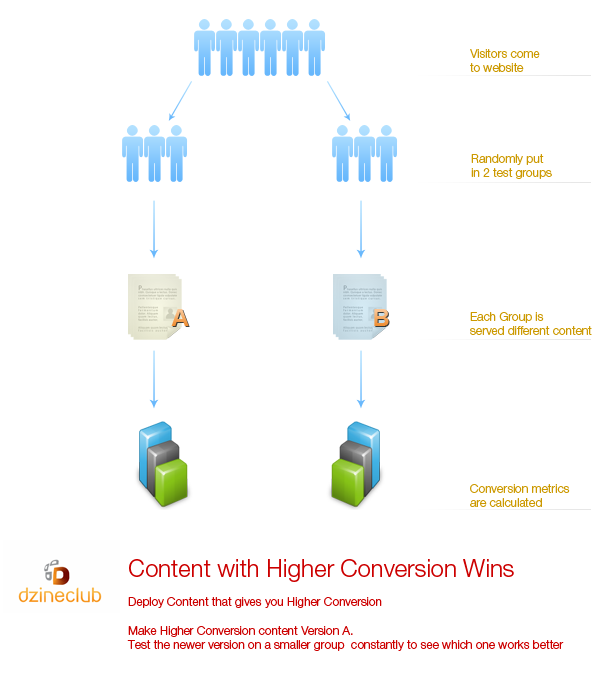 2. What things can/should you test on AB Test
Call to action Buttons
page Layouts
Sign up Forms
Email Subject Lines
Checkout Processes
3. Where can/should you use A/B Testing

On your Website
Home page of your website
Sign up pages on your website
Any High Traffic Landing pages on your website
eCommerce Store
Checkout Page
Add to Cart call to action
Product Landing Pages
Email Marketing
Subject Lines
Call to action buttons
Search Engine Marketing
Main Tag Line
Descriptions
4. A/B Test Best Practices
Test Pages with high traffic
Not enough traffic means that the results might not be accurate. Make sure your testing sample size is large enough.
Keep the Tests running until you are confident that one wins over the other
Small conversion wins are not a good indication of a winning content. Have the tests running for a reasonable time and only accept content that is visibly winning.
Start Small
If you are starting out on A/B testing, start by making smaller changes such as placements of content blocks on your website
Put  Bolder Testing for smaller percentages or New Visitors
if you are making a radical change on your content to test, test it on a small percentage first. Lots of times big changes on site don't resonate well with the visitors. Many tools allow you to test new visitors rather than returning visitors so test on this group first before testing it on all the visitors.
5. AB Test Case Studies
These websites give you case studies on what has worked and what haven't worked when it comes to A/B Testing
ABtests.com has a repository of A/B tests performed by users and uploaded to the website. You can see the different versions, what was different on them and how they performed.
Similar to ABTests.com Whichtestwon.com shows the different test and results of testing. It also allows you to test your gut feeling and see how correct you were.
Success Stories Section of Google Website Optimizer with information about what was tested and what kind of results came up.
6. A/B Testing Tools
Free A/B Testing Tools
Paid A/B Testing Tools
Adobe Test & Target powered by Omniture
Amadesa A/B and Multivariate Testing
Maxymiser Multivariate Testing
Optimost
SiteSpect